What is E-Commerce
Ecommerce (or electronic commerce) is the buying and selling of goods (or services) on the internet. It encompasses a wide variety of data, systems, and tools for online buyers and sellers, including mobile shopping and online payment encryption.
Most businesses with an ecommerce presence use an ecommerce store and/or an ecommerce platform to conduct online marketing and sales activities and to oversee logistics and fulfilment.
Types of Ecommerce
There are generally six main models of e-commerce that business categorise into:
B2C (Business-to-Consumer)
B2B (Business-to-Business)
C2C (Consumer-to-Consumer)
C2B (Consumer-to-Business)
B2A (Business-to-Administration)
C2A (Consumer-to-Administration)
1. Business-to-Consumer (B2C)
B2C encompasses transactions made between business and the consumer. B2C is the most used model of e-commerce. For example, when you buy shoes from an online shoe retailer, it's a business-to-consumer transaction.
2. Business-to-Business (B2B)
B2B encompasses sales made between businesses, such as a manufacturer and a wholesaler or retailer.
3. Consumer-to-Consumer (C2C)
C2C is one of the earliest forms of ecommerce. Customer-to-customer relates to the sale of products or services between customers.
4. Consumer-to-Business (C2B)
C2B reverses the traditional ecommerce model, meaning individual consumers make their products or services available for business buyers.
5. Business-to-Administration (B2A)
B2A covers the transactions made between online businesses and administrations. An example would be the products and services related to legal documents, social security, etc.
6. Consumer-to-Administration (C2A)
C2A is similar to B2A, but consumers sell online products or services to an administration. C2A might include online consulting for education etc.
Growth of E-Commerce
Changes in technology have certainly driven ecommerce growth, along with global circumstances. Today, ecommerce must meet consumers' expectations for safety and convenience.
The United Parcel Service Inc. rode a pandemic-fueled surge in ecommerce to higher profits and a 13% jump in revenue during the June 2020 quarter. During that same quarter, UPS saw a 65% increase in deliveries to residences.
In 2019, U.S. e-retail sales on Amazon increased by 19.1% and amounted to over 222.6 billion U.S. dollars.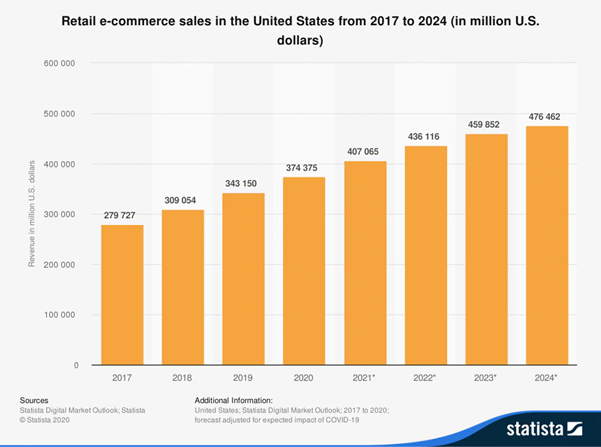 Advantages of E-Commerce
1. Faster buying for customers
E-Commerce makes shopping from anywhere and at anytime possible especially for customers.
That means customers get there products faster and not be constrained by busines hours of a traditional store.
2. Companies can easily reach new customers
E-Commerce also makes it easier for companies to reach new, global customers. An ecommerce store isn't tied to a single location. This means that it's open and available to any and all customers who visit it online.
3. Lower operational costs
Without a need for a physical storefront (and employees to staff it), ecommerce retailers can launch stores with minimal operating costs.
Disadvantages of E-Commerce
1. Limited interactions with customers
Without being face-to-face, it can be harder to understand the wants, needs and concerns of your e-commerce customers.
2. Technology breakdowns can impact ability to sell
If your e-commerce website is slow, broken or unavailable to customers, it means you can't make any sales.
3. No ability to test or try on
For customers who want to get hands-on with a product before adding it to their shopping cart, the ecommerce experience can be limiting.
References: