What is Social Media Marketing?
If you're using social media platforms to connect with your audience and build up your brand image, you're using social media marketing!
So, what are some great ways you can market your business or brand on social media for business success?
Publishing great content often
Engaging with your followers
Posting out adverts onto social media
Analysing your results to see what works and what doesn't
You may do this via Facebook, Instagram, Twitter, LinkedIn, Snapchat, YouTube, Pinterest… and more!
Benefits of Social Media Marketing
Digital Vidya have noted some great examples to the benefits of social media marketing.
Increased Brand Awareness to Gain Effective Brand Recognition
Social media can allow you to reach so many people, very quickly. This allows you to increase your brand's visibility and awareness. By reaching a large audience, you can begin to have some brand recognition, which in turn encourages a loyal customer base as people can prefer buying from brands they've heard of and trust!
Better Customer Service and Improved Audience Insights
Social media can make it easier for business owners to provide quick and effective customer service- to anyone, anytime, anywhere in the world. By gaining a good reputation amongst your customer base, it can encourage more people to look at what your business is selling or providing. Your business can then analyse what your potential customers' needs are and customise your social media campaigns accordingly.
Improved Customer Engagement and Brand Loyalty
According to Khoros, 83% of customers agree that they feel more loyal to brands that respond and resolve their complaints. By engaging with your customers on social media and resolving queries quickly, you can increase your brand loyalty. If a customer knows the process will be smooth sailing every time, they will be more likely to return to your business!
Every post, status update, advert, blog, or interaction can increase your customer awareness and engagement. Social Media is one of the most crucial ways to connect with your audience.
Examples of great Social Media Marketing (and some not-so-great examples)
Netflix- everyone's heard of them, right? Netflix has 79 million likes on Facebook and it comes as no surprise!
Netflix are incredibly active at posting on social media- about 3 times a day! By posting videos of new releases and older classics, Netflix creates frequent exposure of the Netflix brand to their customer base. Their background photo has even been doubled up to create an advert for a new Netflix film!
Social media exposure has earned Airbnb billions. With over 16 million likes on Facebook, Airbnb have a large customer base,  a responsive customer service team and beautiful photos of stays, provided by hosts.
One of the great ways Airbnb promote their business is by sharing photos of the stays that hosts provide via their site. This creates exposure for the host, while also enabling Airbnb to promote their holiday stay business with these beautiful photos! That's a win-win!
Even with negative comments on their social media, with quick responses, Airbnb can resolve issues sooner, rather than later, and keep their customers happy.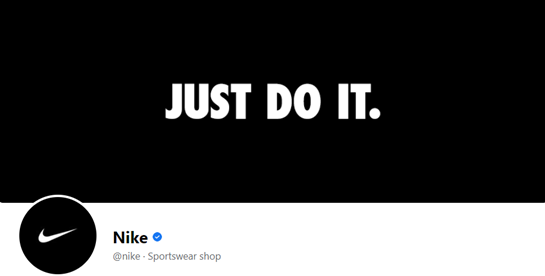 Nike's logo is one of their signature assets. By adding their slogan behind their logo on the profile and background pictures, they're instantly advertising their brand to people, and gaining brand exposure.
However, they haven't posted on Facebook since 2018- that's notably not good for publicity. This being said, their Twitter account is active monthly, filled with vibrant colours, animations and videos of companionship and people reaching for their goals. These are all messages Nike want to portray for their brand image.
Nike also have various platforms, such as Nike Women, which cater for more targeted audiences as a place for brand exposure to more specific parts of their business, such as women's' athletic clothing in this example. This is a great use of social media marketing as it's an easy way to target specific areas of your audience quickly.
If you want to increase your brand exposure and gain large audiences to the products or services your business is selling, social media marketing is a sure-start way to build business success.