When creating a website, it's important to understand your audience and the type of people that are visiting and searching for your website. With this understanding, we make sure that our audience returns to our website and they don't just click on our website and then click back out of it.
Therefore, creating a website that is both Fast and Good-Looking is important because this encourages our users to return to our websites because they like the look, design of the website and speed / response time that our websites respond back to the user.
Let's take YouTube, for example: they make sure that all of their videos and their main pages load quickly and with information that is appropriate for the user. In doing this, YouTube manages to grab the users' attention because they're interested in the content that YouTube is recommending to them. Due to this, visitors don't instantly click out of the page because YouTube's pages load quickly and within 2 seconds. We as users have now been conditioned to expect websites to load fast and efficiently so users do not click out of the video.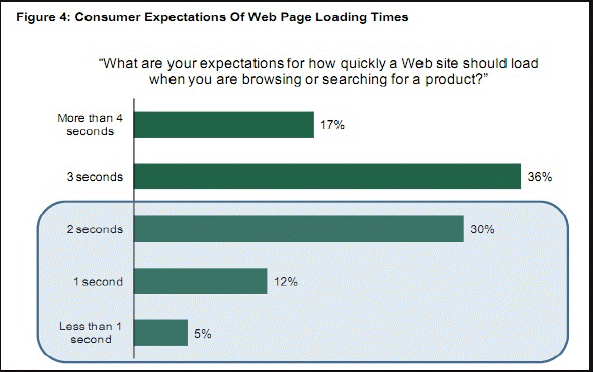 Figure 4 Source: Akamai
As you can see from figure 4 above, it asked to people "What are your expectations for how quickly a website should load when you are browsing or researching for a product?" and 83% of people said that they expected 3 seconds or less. This article is from 2012, so we can with easily assume that people now expect even quicker load times on websites.
Finally, continuing on from when we established website design and looks are important, SWEOR's (https://www.sweor.com/firstimpressions) statistics state that "75% of consumers admit to making judgments on a company's credibility based on the company's website design". As you can see, this is a high percentage mark so it's important when creating a website that you make it simple and intriguing for the user to look at. Otherwise this may lead to you not having as many returning users and now with everyone using the internet to make first impressions, this will not be good for business.