We all use social media platforms, whether it's for our work or personal accounts to follow memes, cute cats or celebrities.
In the past 10 + years, social media has grown to a massive industry which leads to propaganda, businesses, and sales of the modern-day. If you need anything, you look online first. Want to find quick news, you look online first. It's big in our daily lives, but which is better for your business?
Facebook
Facebook's known as the big giant of social media, as it's the largest platform with over 2.45 billion monthly active users worldwide. The platform has the largest user base from the ages 25-34, however, with recent statistics – other ages are increasing, allowing for your business to be seen by a diverse range of people.
It's vital to find your target age for your business early on to find which social media you can utilize the most and get your brand out there fast. For example, if your target audience is 65+-year-olds, you will still have a large audience on Facebook but it's not ideal to put a lot of effort and time into Facebook marketing your brand to that age. However, if your business relies on 25-34-year olds then you have a large audience waiting for you.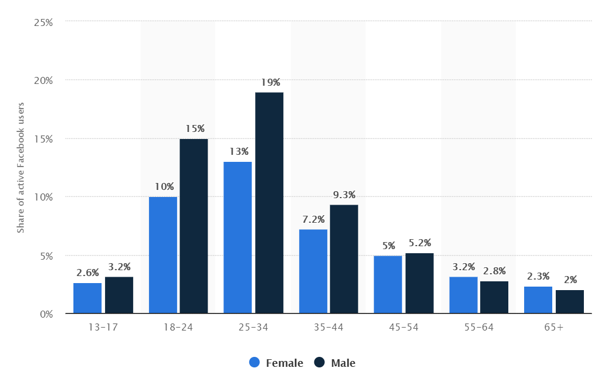 Source: Statista
With different types of engagement tools, like using the events tool – where if you are holding an event and want to get your event out in the public domain, Facebook's tool allows you to just do that and put in key information, like ticket prices or venue location, that will be easier for your audience to see.
Alongside the events tool, Facebook's prime is its targeted advertisement. With Facebook ads, you can target those who are most interested in that subject/area your business is in, dependant on their search history and their willingness to purchase your service/product. This ensures that your business gets ads in front of users at the right time.
Facebook also allows businesses pages to save a lot of time with their tools like Creator Studio – which allows you to schedule posts and videos with insights and figures to how well you're doing. You can find more about Creator Studio in our other blog!
We give Facebook an 8/10 stars
Instagram
Recently bought out by Facebook, Instagram is a very visual platform that allows you to upload pictures and videos of your brand to gain followers and interact with the public very easily.
If your business is to do with something visual, for example, 'cakes', then Instagram would be very ideal for you to use as it shows exactly what you're selling or advertising.
According to MIT research, people can process an image in as little as 13 milliseconds – a blink of an eye. Having a visual advantage, whether it's bright red cakes or good-looking cakes is the biggest advantage to Instagram. In that limited time, you must capture your audience's attention, you must make sure that your content:
Gets the message across
Is clear and concise to what you are offering
Visual attractiveness matters more than the content. Grab your audience's eye because once you've got their attention, then they will be happy to read your content and continue with your brand.
Not only posts that grab your attention, but Instagram stories and IGTV are also a big movement on the platform. Sometimes your post doesn't get the same impressions as your stories do purely because your post might get lost with all the other posts, but with stories and IGTV posts –they are shown to all accounts that follow you, which is a new audience that you can capitalize on.
P.S. You can also use Facebook's Creator Studio to schedule posts or stories to your Instagram account!
We give Instagram an 8.5/10 stars
Twitter
Using Twitter effectively is very hard, as you must constantly be up to date and engaging with new content, however, done correctly and efficiently will help your business grow fast.
The platform allows the owner of the account to engage with their audience, asking questions via tweets or creating polls to see what people prefer. Having this forward engagement is great, but for small businesses – it's hard to get going.
Once it's got a large following, Twitter allows you to reply to your audience and ultimately change their views on the brand. For example, fast food chains are always joking around with celebrities or other fast-food chains. Burger King won the most liked branded tweet of all time, by simply retweeting with a comment to Kanye West's tweet. They changed their approach to branding and show that they aren't some large cooperation but rethink their approach to online marketing.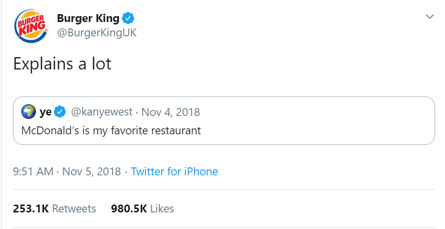 Twitter helps connect their audience to the brand in real-time and gives great customer support to your service if customers are in need. However, to promote and/or advertise your service/product, Twitter can be limiting comparing it to other social media platforms like Facebook and Instagram.
We give Twitter a 7.5/10 stars
LinkedIn
Only recently, LinkedIn has become a social media platform that we have started to take seriously. Before, it used to be just a networking app, where you can connect with your lecture teachers or work colleagues and create a professional profile for yourself online.
However, now LinkedIn is being used more and more by businesses to get involved in the professional industry and communicate with other businesses/ business fanatics.
The platform is ideal for professional content, that can be of use to the audience. Increasing your brands' visibility in the professional industry will get eyes from consumers in no time. Adding connections and creating a LinkedIn community, where you participate in conversations on the platform is the best thing for any business to do – small or big. This keeps people engaged and talking about your brand.
Once you are active in the LinkedIn community, you now have people asking you for advice and this would be your prime opportunity to create content with the purpose of support and helping people solve their problems – even if it's just a blog post, it's guaranteed you will get a click to your website (just like this one! 😊)
Showing you are active on your professional profile shows that you are an active company and active in the professional industry ready to trade goods and services with other businesses and gain clients.
Overall, LinkedIn is great to get the word out there about your business and get people talking about your brand.
We give LinkedIn a 7.5/10 stars
The key message here is to get active on social media, whether it's Facebook, Instagram, Twitter or LinkedIn! Getting your brand noticed by one person is big enough to create a word of mouth chain or to pass your company on to another person…
Get involved with our social media platforms
Twitter – @27WebManagement
Facebook – 27 Web Management