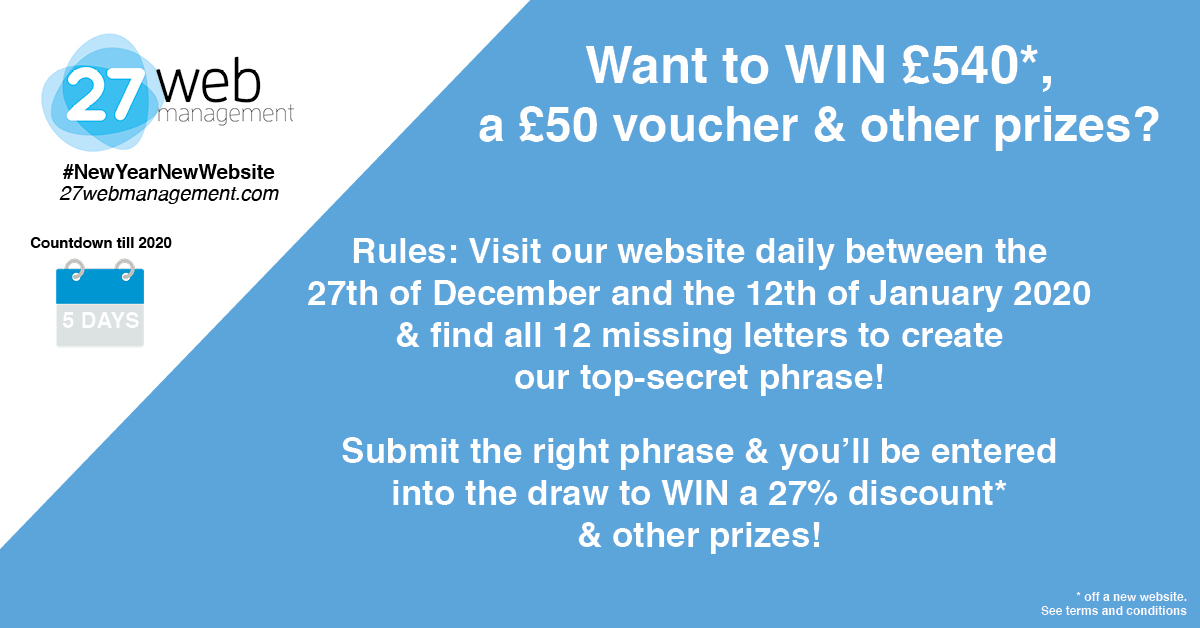 We at 27 Web Management are holding a festive, fun and rewarding prize give-away competition
this holiday period.
All you need to do is check up on our website daily to get the hidden message and you can be in the chance of winning prizes and £540 off a new website!*
We'll be hiding coloured letters throughout our website, which will create a top-secret phrase between the 27th of December 2019 till the 7th of January 2020.
How to join and win prizes!
Every day between the 27th of December and the 7th of January, we'll be hiding Christmassy characters all around our brand-new site, from our main page to our blogs, that will create a phrase, with all letters published, on the final day of competition.
Collect all 12 letters and create the hidden phrase with it to WIN!
Keep an eye out for our social media posts, as you might find clues and tips on where the 12 letters are located on our site!
Entries finish on the 12th of January 2020, so make sure to get your letters in by then!
Insert all letters into our golden ticket successfully to be in for the chance of winning!
We want the best for your business and your services. Freshen up your website, change that logo, spice up your content – get your brand name out there.
27 Web Management is here to help you with that – let's get connected.
– The 27 Web Management team wishes you have a fantastic and warm Christmas and New Year's, and we look forward to working with you in 2020.
#NewYearNewWebsite
---
Terms & Conditions
Entrants
27 Web Management Limited will use the email address used to enter the giveaway to contact the winner
27 Web Management Limited can use the email addresses supplied to send marketing material. The party can remove themselves from the marketing list at any point.
Prize winners
Prizes are transferable to other parties but not other offers.
All Prizes have to be claimed by the 24th December 2020
Prizes
The £100 worth of prizes will be broken up into 1st, 2nd and 3rd place prize pools.
1st place will receive 27% off and a £50 M&S Voucher prize reward. 2nd place will receive a £35 M&S voucher prize reward. 3rd place will receive a £15 M&S Voucher prize reward.
1st place wins 27% off a £2000 website development. Anything over £2000 will be full-priced. For example, if your quote is £3000, you will receive 27% off the first £2000 pounds and the final £1000 will receive no discount.
2nd place wins a £35 M&S Voucher
3rd place wins a £15 M&S Voucher
Further terms and conditions can be found here